La Rochelle Serge Vigot Marathon commit to a more responsible event, through various actions. Together, make our marathon eco-friendly !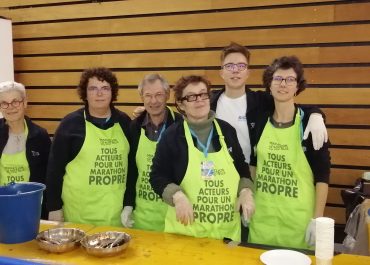 Our partner since 2018, Biotop company collects and sorts several materials : cardboard,textiles, plastic (films, bottles, cups), caps, food waste (banana and orange peelings, leftover meals)
PARTENARIAT VILLE DE LA ROCHELLE
L'association du Marathon de La Rochelle a signé la « charte pour les événements rochelais éco-responsables » mise en place par la ville de La Rochelle. Elle s'engage a mettre en œuvre différentes actions inscrites dans cette charte, et est actuellement au niveau 3 (sur 4), c'est à dire que 71% des actions mentionnées dans la charte sont mises en place par l'association.
GIVE YOUR OLD SPORT SHOES!
A big bin is placed all week-end at the Village Marathon entry (Espace Encan, Quai Louis Prunier). Put your old sport shoes down, they will be distributed to people in need by charity "Entraides et Solidarités Rochelaises"