La Rochelle Serge Vigot Marathon commit to a more responsible event, through various actions. Together, make our marathon eco-friendly !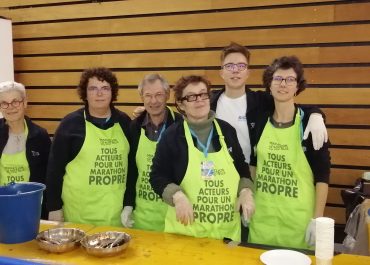 The team ensure the sorting instruction's respect at refreshment points and during pasta party and increase public awareness during the week-end.
34 zones de récupération déchets, conçues avec des entreprises locales en filet de pêche, installées à intervalle d'1 km.
download waste map
No need to print the race number voucher, we can check directly on smartphone. Less paper, less waste !
Les sacs dossard remis aux coureurs sont fabriqués en papier, 100% recyclables. Et ils ne contiennent plus de prospectus publicitaires !
After the race, free bus shuttles to connect the Old Port to parking lots, Espace Encan, hospital and train station (partnership with La Rochelle city and CDA).
Boat shuttle, free for runners, enables to reach "Camping du Soleil" showers and parking lot.
Our partner since 2018, Biotop company collects and sorts several materials : cardboard,textiles, plastic (films, bottles, cups), caps, food waste (banana and orange peelings, leftover meals)
GIVE YOUR OLD SPORT SHOES!
A big bin is placed all week-end at the Village Marathon entry (Espace Encan, Quai Louis Prunier). Put your old sport shoes down, they will be distributed to people in need by charity "Entraides et Solidarités Rochelaises"